"The Flux" – The Second Book in the 'Mancer Series!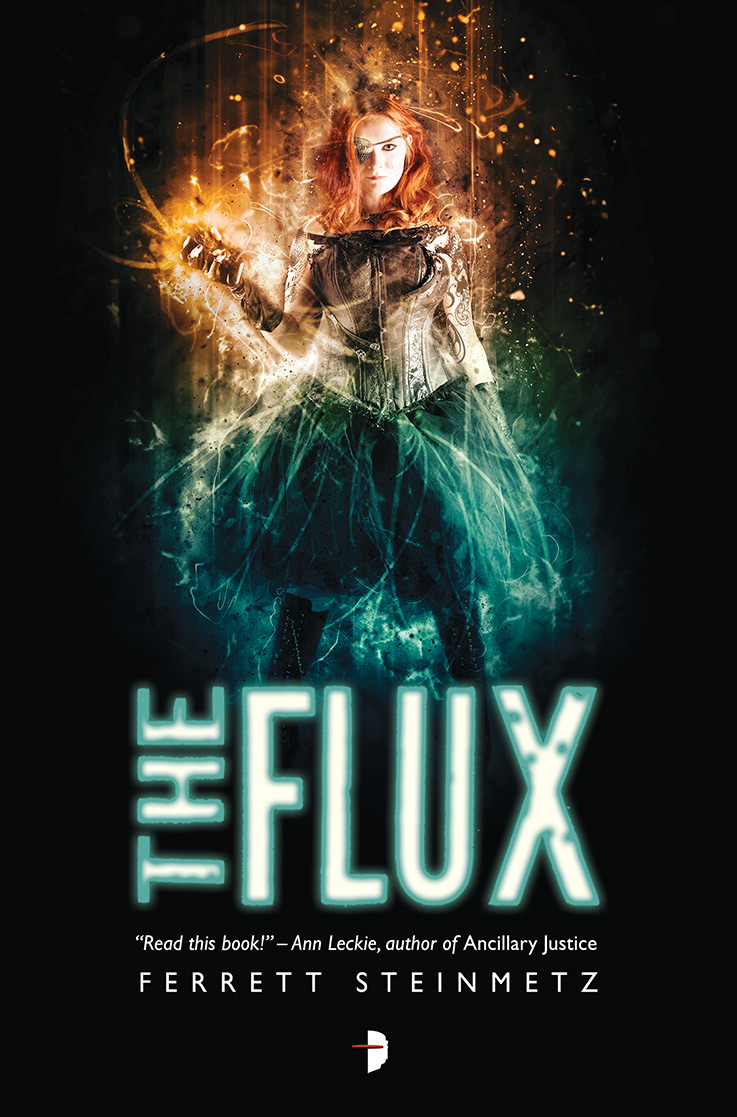 Love something enough, and your obsession will punch holes through the laws of physics. That devotion creates unique magics: videogamemancers. Origamimancers. Culinomancers.
But when 'mancers battle, cities tremble…
ALIYAH TSABO-DAWSON: The world's most dangerous eight-year-old girl. Burned by a terrorist's magic, gifted strange powers beyond measure. She's furious that she has to hide her abilities from her friends, her teachers, even her mother – and her temper tantrums can kill.
PAUL TSABO: Bureaucromancer. Magical drug-dealer. Desperate father. He's gone toe-to-toe with the government's conscription squads of brain-burned Unimancers, and he'll lie to anyone to keep Aliyah out of their hands – whether Aliyah likes it or not.
THE KING OF NEW YORK: The mysterious power player hell-bent on capturing the two of them. A man packing a private army of illegal 'mancers.
Paul's family is the key to keep the King's crumbling empire afloat. But offering them paradise is the catalyst that inflames Aliyah's deadly rebellious streak…
Now available from Angry Robot books!
Nice things people have said about The Flux:
"The Flux is the best kind of sequel: bigger, deeper, scarier, funner. The emotional journey it takes the reader on is just as thrilling as the jaw-dropping wonders of videogamemancy and bureaucramancy. With the 'Mancer series, Ferrett Steinmetz has achieved something rare in contemporary fantasy: a world that feels both truer and more magical than our own."
Ken Liu, winner of the Nebula, Hugo, and World Fantasy Awards and author of The Grace of Kings and The Paper Menagerie and Other Stories.
"A sequel that takes everything the original did, which was already brilliant, imaginative and felt fresh in a genre that has perhaps become dominated by a few big name series, and improves on every aspect from plot, characters, action and variety of magic. Steinmetz thoroughly proves he is no one-novel wonder."
– Lord of the Night at Talk Wargaming
"I absolutely loved The Flux. It's incredibly difficult to follow an awesome first book, but this book actually surpasses the first."
– Bookaneer
"I really, really liked the uniqueness of the world of magic Steinmetz has created with his novels.  It's very well thought out, and structured. It was exciting to see how someone obsessed with video games would see the world, and its rules, through the use of 'mancy. I also enjoyed the addition of such human dynamics between all of the characters. Steinmetz has done a wonderful job of blending superb battles between the 'mancers and mundanes, with heart wrenching moments with Paul and his eight-year-old daughter Aliyah, while still walking the tightrope of creating a story about family, good vs evil, and trust."
– Books, Cats and Caffeine
"I cannot express this enough, THIS BOOK MUST BE READ! 5 HOOTS."
– Purple Owl Reviews
"This is going to be an easy review. I loved it. I AM A NEW FANBOY."
– Brad K Horner