"Flex," My Debut Novel!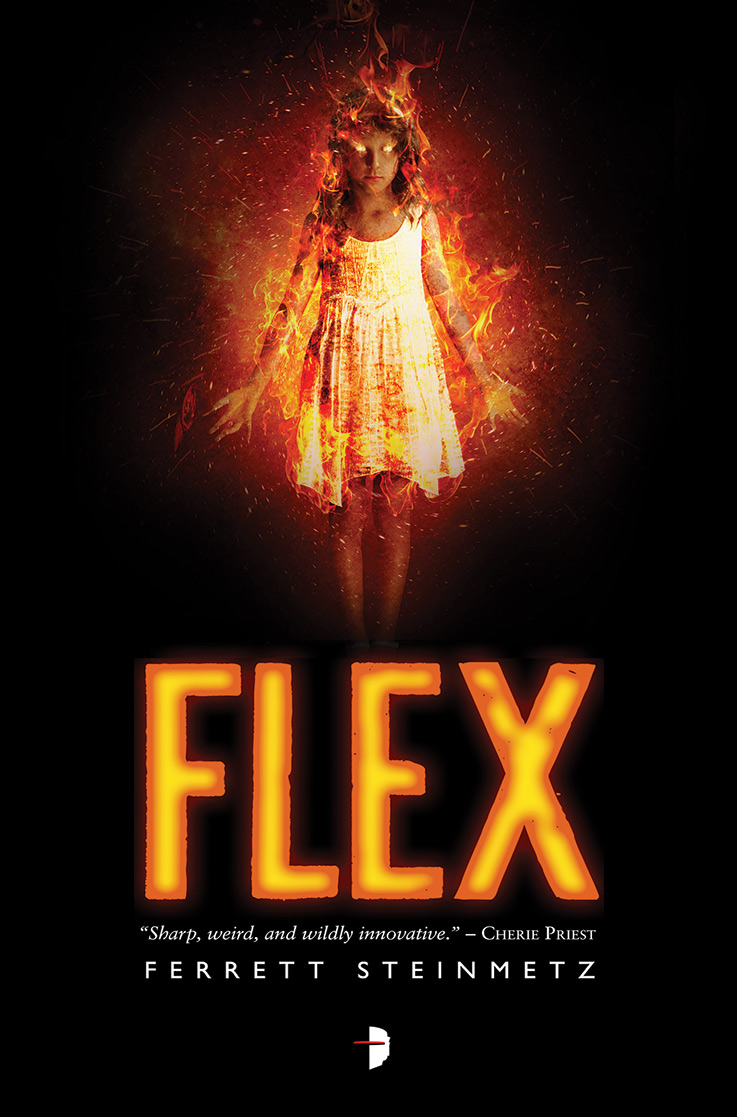 A desperate father will do anything to heal his daughter in a novel where Breaking Bad meets Jim Butcher's Dresden Files 
FLEX. Distilled magic in crystal form.  The most dangerous drug in the world.  Snort it, and you can create incredible coincidences to live the life of your dreams.
FLUX:  The backlash from snorting Flex.  The universe hates magic and tries to rebalance the odds; maybe you survive the horrendous accidents the Flex inflicts, maybe you don't.
PAUL TSABO: The obsessed bureaucromancer who's turned paperwork into a magical Beast that can rewrite rental agreements, conjure rented cars from nowhere, track down anyone who's ever filled out a form.  But when all of his formulaic magic can't save his burned daughter, Paul must enter the dangerous world of Flex dealers to heal her.  Except he's never done this before – and the punishment for brewing Flex is army conscription and a total brain-wipe.
Now available from Angry Robot books!
Nice things authors you may like have said about Flex:
"Flex is hot, inventive, and exciting.  A real joyride of a story…a whole new kind of magic and a whole new ballgame. Totally recommended."
– Seanan McGuire, New York Times Bestselling and award-winning author of the Toby Daye and InCryptid series
"Flex is a real gem – sharp, weird, and wildly innovative. It zigs when you think it'll zag, then tricks you into screaming when you're ready to laugh out loud. So drop everything and settle in for the night – because once you open this one, you're not going anywhere."
– Cherie Priest, author of the Hugo and Nebula-award nominated Boneshaker
"Featuring one of the most original magic systems ever devised and a pair of likable, layered protagonists, Flex is a fast-paced, imaginative, and emotionally engaging adventure. The developing friendships and rapport among the characters are portrayed with sensitivity and avoids cliches, and the magical battle sequences are rigorous and filled with ingenious touches that will make gamers and tax lawyers alike grin with joy."
–Ken Liu, winner of the Nebula, Hugo, and World Fantasy Awards
"Flex is a breath of magical, drug-addled, emotionally tortured fresh air, with one of the most unique and fascinating main characters I've read in ages. In an urban fantasy genre filled with handsome vampires and sassy witches, Ferrett presents us with Paul Tsabo–a Greek insurance adjuster with a prosthetic foot, forced into the half-mad underworld of a reality-bending narcotic to save his daughter from a devastating house fire. With great characters, evocative writing, and boundless creativity, Flex is one of the strongest debut novels I've ever seen, and one of my favorite novels of the year."
–Dan Wells, New York Times Bestselling author of the Partials and John Cleaver series
"Not since Philip K. Dick started toying with reality for fun and profit has there been a novel so enjoyably hallucinatory as Flex. A heady mix of the surreal and the mundane, it will appeal to fans of video games, donuts, insurance, bureaucracy and crime families. Oh, and modern-day mage wars. Yet for all of its wild plot, this is a story about the tender bond between parents and children, the loyalty of friends and how the odd among us find their places in the world.   Ferrett Steinmetz has written a page turner!"
–James Patrick Kelly, winner of the Hugo, Nebula and Locus Awards
"Amazing. I have literally never read a book like this. Read this NOW, if only to be forced to turn the page wondering what the hell Steinmetz is going to come up with next."
– Mur Lafferty, Campbell award-winning "Best New Writer 2013" and author of The Shambling Guide to New York

"Big ideas, epic thrills, and an unlikely paper-pushing hero you'll never forget. Just when you think you know what's next, the book levels up spectacularly."
–John Scott Tynes, author of the RPG Unknown Armies and Delta Green: Strange Authorities
"Half part Breaking Bad and half part urban fantasy, Flex is an enthusiastic romp through a world of ingenious magic accessed by geeky, obsessive projection. Tremendously entertaining rule-tinkering and loophole-hunts abound. A terrific read."
–Robert Jackson Bennett, author of American Elsewhere and City of Stairs