Ferrett's Pretty Pretty Princess Nails (A Gallery)
About every six weeks, I have my nails done in the craziest way I can do them. It's unusual for a guy to have Pretty Pretty Princess Nails, but thankfully my mad manicurist Ashley indulges me with incredible art.
Here's a gallery of her work on my hands. Ashley currently works at Fantasy Nails in Cleveland, Ohio and is available for appointments. Call her. Get your nails did.
(If you're curious why I paint my nails, I wrote about the many reasons I do this.)
Pokemon Nails, March 2017, a.k.a. "The Hardest Nails Ashley's Ever Done"

Carolyn Meyer Nails, January 2017
Done to celebrate the Bat Mitzvah of my goddaughter Carolyn Maxwell Meyer, I had her name in Hebrew done on my nails. (Photo courtesy of Audrey Busta-Peck.)
Frankenstein Nails, October 2017
(Not intended to be Sally from Nightmare Before Christmas, but sorta ended up that way)

Fix "Paperwork" Nails, September 2017
Celebrating the release of the final book in the 'Mancer series, Fix.
Jupiter Probe Celebration, July 2016

Our Greek Cruise Nails – I'm on the top, my Mom's nails are on the bottom – June 2016

Steven Universe Nails, April 2016

Batman vs Iron Man vs Superman vs Captain Americaman (BvS/Civil War Nails), March 2016

Mad Max: Fury Road nails, February 2016

Star Wars Nails, December 2015

Flux Nails (to celebrate the release of my book The Flux, which you should contemplate buying!), October 2015
Avengers nails, August 2015

"Music Mama" Nails, July 2015
Lord of the Rings Nails (In Honor of Sir Christopher Lee), June 2015

Ms. Pac-Man Nails (April 2015)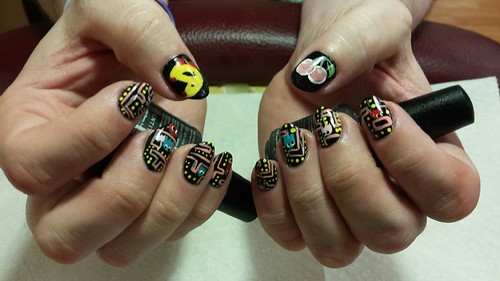 Flex Nails (March 2015), to celebrate the debut of my novel Flex

Library/Book Nails (for ConFusion, January 2015)

Penguin Nails (not me but my friend Jenn, December 2014)

Firefly Nails (in honor of my deceased goddaughter Rebecca, who died in June 2014)

The Amazing Spider-Nails (April 2014)